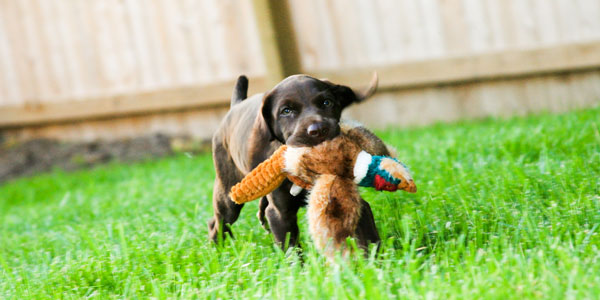 Top Gun Kennel is committed to providing quality over quantity in breeding only a small number of the most exceptional German Shorthaired Pointers to further the characteristics of the breed. We plan to produce only one litter of selected breedings from proven genetics each year and will accept only 12 deposits per year (generally 6 males and 6 females).
Please note: We are not currently accepting deposits for puppies at this time.
For more information on purchasing a pup from one of our litters, please review our Puppy Purchase Agreement. It includes extensive details on our conditions of sale, health guarantee and AKC Registration. You can also review our Vaccination Program for details on the care we provide and recommend for each puppy.
If you have interest in offspring from one of these select litters, contact us early and reserve your pup today. Most litters are sold before they are born. Very serious inquiries in the most exceptional canine genetics only, please.
Traits We Reproduce Through Genetic Selection
Making each generation better is our main objective and our goal is to improve the breed with every mating that we make. We do not breed extremes to extremes or strengths to weaknesses hoping for the middle of the road. We believe the people using this method of breeding are looking for a short cut. Our focus is to concentrate and develop the individual traits that have been the strength of the German Shorthair breed.
Close Working Hunters
Companions who Desire to Please
Consistent and Predictable Results
Correct Conformation
Style, Longevity and Stamina
Natural Trainability & Common Sense
We are constantly striving to improve the German Shorthair breed by researching new lines and traits to keep our customers satisfied. We're very confident in our genetics and encourage you to study the pedigrees on the stud dogs and females of our future German Shorthair litters with the same level of scrutiny that we have.