Top Gun Jake MH UT Prize I – Retired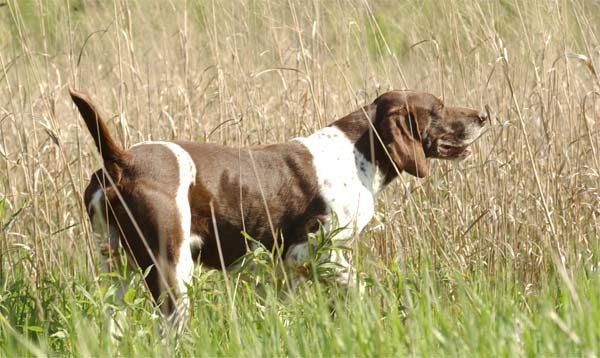 DOB: 5/16/98
DNA: V180884
OFA: Hip Certified – Good
Jake was the last male left in the litter, so we started training and learning together. He taught us more about training for Field and NSTRA Trials vs. Hunting Test, Versatile Testing with upland game or waterfowl both having success with every venue with both respect and recognition. We went through tough times together earning a kennel name in a political world with breeders, trainers and envious brace mates with a little pride and ego from his owner. Jake might not have known which owner was going to show up that day for training or competition however, I knew I could always expect the best from him.
His offspring earned Jake the "2006 GSPCA Hunt Test Sire of the Year" for the breed and gained national recognition for our kennel business. Jake's career was ended after being struck by a car during training just 2 points short of his AKC Amateur Field Championship (AFC) title, and only 1 point needed for his National Shoot-to-Retrieve Championship. Jake was a large part of the success and notoriety of our kennel. His litter was the foundation on which we have built our line due to the many positive traits they have produced into their offspring.
We may never own another Jake in our lifetime however, our lifetime together has generated us with the confidence and the ability to learn how to differentiate and compete in the many different games we have played in. But become one of the greatest hunting dogs we have ever followed wild bird hunting in all parts of this country. Jake's offspring possessed a 70/30 for desire and trainability with natural hunting instincts, intense style and desire to find game with excellent "bird sense."
We were very blessed to have owned such a great hunting and family companion that taught us more together than we could ever have imagined!
2011 GSPCA Dual Sire of the Year
2006 GSPCA Top Producing Sire Award
Received AKC Master Hunt Test Title – Sept. 23, 2001
Wins toward NSTRA Championship (needs 2 points)
Received NAVHDA Utility Prize I (201) August 2001
Member of a Breeders Award litter
Sire of a 3 NAVHDA Breeders Award litter
Received AKC Field Championship Title May 2002